Quality management for safety and reliability
Highest quality at Digel Sticktech
Quality management
Safety and product quality have always been the top priority at Digel Sticktech. Our customers trust and appreciate the flexibility and reliability we always maintain!

In February 2006, a milestone in the company's history was set with the certification of our QM system according to DIN EN ISO 14001. In 2022 the DIN EN ISO 9010 certification followed.

DIN EN ISO 9001 certified DIN EN ISO 14001 certified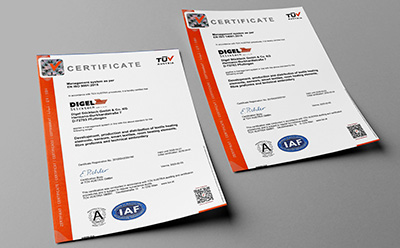 ---
Quality Policy
Our customers expect from us first-class and innovative products at competitive prices. We distinguish ourselves through reliable adherence to delivery dates, flexibility in the case of changes and special requests, as well as fast, friendly, error-free processing and handling of all orders.

In order to secure the long-term success of our company and thus jobs, we want to meet the expectations of our customers. We place customer satisfaction at the center of our daily activities and constantly drive the continuous improvement process.

Through innovation and competence in cooperation with associations, in differentiation from the competition and in cooperation with suppliers and customers, we open up new business areas that we would like to further expand for ourselves and our customers.

In times when products are becoming increasingly similar, our professional communication to target groups plays a particularly important role. This is particularly true for the so-called "hard-to-explain" products from industry and trade. If you want to secure this competitive advantage, you have come to the right place. Because we not only know the way, we are specialists for solutions in the field of textile heating elements, smart textiles, dry fiber preform and technical embroidery.

Textile heating systems, preform, scrim and reinforcement structures are our element!


---
With the successful certification, we are expressing that our business and production processes not only meet international standards, but also form the basis for successful and trusting cooperation with our customers. cooperation with our customers.

Our quality management is subject to continuous optimization, as for us the key to success lies in the change and adaptation of processes is the key to success.

Certificate ISO 9001
Download PDF [< 300 kb]

Certificate ISO 14001
Download PDF [< 300 kb>]