Tailored Fiber Placement Products
Fiber laying and reinforcement structures
Products: Tailored Fiber Placement
Fiber laying and reinforcement structures
We are experts in the field of Tailored Fiber Placement and your partner for fiber composites and reinforcement structures such as carbon fiber reinforced plastics as well as scrims made of technical fibers. We are looking forward to new exciting projects and a personal conversation. Call us (Tel.: +49 (0) 7121 976 76 80) or simply send us a message via our contact form.
Tailored Fiber Placement
As a product of our technical embroidery and using Tailored Fiber Placement (TFP) technology, we manufacture reinforcement structures that withstand the highest demands. The components are used, for example, in areas where lightweight construction and high stability are required. These include the automotive sector, aviation, sports equipment and accessories, and the medical sector. Thanks to ever new applications, demand for our innovative embroidery technology continues to grow.

But it is not only the weight reduction and stability that speak for the use of reinforcing structures; depending on the requirements and application, the positive properties such as temperature resistance, corrosion resistance and acid protection are also an important point.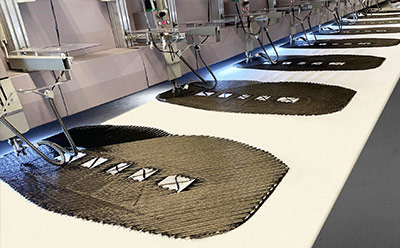 Tailored Fiber Placement is our DNA
Our modern and innovative embroidery technology provides you with a market and technological advantage. We are highly flexible in processing and can also process materials such as wires and heating conductors in free form in addition to fiber rovings. This enables the individual production of electric heating elements, heating mats and smart textiles (e-textiles). We accompany our customers from the problem definition to the small or large series. Our production delivers highest quality and is DIN EN ISO 9100 and DIN ISO EN 14001 certified.

Our modern machinery includes over 80 embroidery units and we produce 100% CO² neutral. We are committed to operational environmental protection and ensure through technical and organizational measures that we can be a resource and environmentally friendly company as possible.
Innovative solutions for:
Tailored-fiber-placement (TFP)
Carbon fiber reinforced plastics
Fiber composite products
Technical fiber scrims
Clutches and reinforcement structures
Preforms
Carbon products and carbon fiber fabric
Glass fiber reinforced plastic vehicle parts
Insights into the products around Tailored Fiber Placement