Products: Smart Textiles
Multifunctional clothing such as heated garments
Modern and Smart Textile Products
We combine modern embroidery technology and our efficient heating elements to create a wealth of multifunctional clothing known as "smart textiles". This area is currently being expanded and a separate brand world is being created around this product group. For a cooperation in all areas just write us a message via our contact form or call us (Tel.: +49 7121 976 76 80).
Multifunctional clothing
Never freeze again thanks to our "Smart Textiles" - multifunctional clothing with integrated heating elements for any any occasion. From warm jackets to winter clothing, such as gloves or even ski boots. Hiking clothes and footwear with integrated heating elements are also in the range.

We round off our program with innovative smart textiles for leisure and wellness. Here we offer, for example, heated seat cushions, which are good for the muscles and contribute a great deal to relaxation.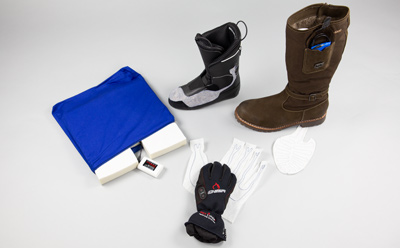 The variety of "Smart Textiles" multifunctional clothing
Jackets
Gloves
Shoes / Ski boots
Hiking clothes
Winter clothing in general
Footwear
Sleeping bags and much more
Outdoor hammocks
Your desired product


Insights into the products around Smart-Textiles